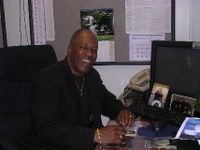 Celebration of Life 
Elder Leon Errol Swanson 
April 13, 1945 - December 08, 2021 
Elder Leon Errol Swanson was born on April 13, 1945, at Fort Braggs, North Carolina. He was the firstborn of seven children to Leon and Olivia Swanson. On December 08, 2021, Elder Swanson entered his eternal rest. 
His Education 
Elder Swanson holds a Diploma in General Bible Studies from Liberty University, a Bachelor of Christian Ministry Degree, and a Master of Pastoral Counseling Degree from Chesapeake Bible College & Seminary. He is a licensed Clinical Pastoral Counselor Board-certified through the National Christian Counselors Association. 
His Decorated Military Life 
In 1965, Elder Swanson enlisted in the United States Army. After basic training, he trained and served as a Medical Corpsman. He was a paratrooper with the 101st Airborne Division, assigned to 1st Battalion, 327th Infantry. He deployed to South Vietnam with the 173rd Airborne in June 1967. During his tenure in South Vietnam, Elder Swanson treated many wounded in the war. He was seriously wounded in hostile combat, but because of the grace of God, he survived and was awarded a Purple Heart and decorated for heroism in the field of battle. Having received many accommodations and badges of honor for his courageous duties served in the United States Army, he was granted an honorable discharge in August 1968. 
His Ministry 
The pivotal moment in Elder Swanson's life was in August 1982 when he gave his life to Christ. He was licensed as an Elder by Pastor Joseph W. King in September 1984. In August 1989, Elder Swanson founded Bema Outreach Ministries, a God-ordained para-church organization purposed to glorify God by taking the LIFE of the church to incarcerated men and women. He cherished going into prison institutions with the self-named North Carolina God Squad which included Elder Larry Miller and Deacon William Bush. They were also accompanied by Brother Green and the late Deacon Wilbur Smoot. For many years, inmates' children benefitted from the Christmas from Daddy and the Resurrection Day Family Fellowship programs under his direction. Elder Swanson also served many other Christian functions, worked alongside other God-centered organizations whose goal was to kingdom build, ministered in nursing homes and provided food and financial assistance to those in need. 
In September 1984 Elder Swanson was licensed to preach the Gospel. He received ordinations from several area churches and denominations, the last being through Chesapeake Bible College & Seminary. He believed strongly in church order and discipline. Elder Swanson and his wife have been submitted to the authority of Woodstream Church in Mitchellville, MD, since September 2009 under the pastoral leadership of Rev. Dr. Robert Wingfield. Elder Swanson served on the Fellowship of Elders. At Woodstream Elder Swanson founded both the Bema Table and the FaithWorkers Ministries. He served as the male spiritual covering for the College and More Connection and oversaw the Woodstream prison ministry. Elder was humbled and honored to serve alongside Pastor Wingfield and considered him an encourager, mentor and friend. He also loved appreciated his fellow Elders. Elder Swanson worked with Brother Anthony McCaffity to bring the C.A.Y.A. (Come As You Are) Men's fellowship to Baltimore. This was an informal monthly fellowship breakfast meeting hosted specifically to encourage male ex-offenders in their Christian walk. From this fellowship, the C.A.Y.A. Good News monthly newsletter was birthed. This newsletter highlighted the positive accomplishments and activities of ex-offenders after prison release and was distributed to inmates in ten different prisons and emailed to the masses of recipients online. November 2021 was his last newsletter edition and was the culmination of 10 years of dedicated work. Bema Outreach Ministries' mission will continue, as the Lord leads, under the leadership of Pastor Walter Braxton. In addition to the C.A.Y.A. Newsletter, Elder Swanson published a book entitled, Do You See What I See?: An Anthology of Observances Seen Through Biblical Light. In preparation to move from this realm to the next, Elder Swanson did not forget about earthly matters. He called for Pastor Antoine Payne and Elder Walter Braxton and charged them both to protect and hold dear the things of God as they relate to Bema Outreach Ministries. 
His Employment 
Elder Swanson retired after 25 years of service with the Washington Metropolitan Area Transit Authority. His last served as Revenue Supervisor. For the last several years, he enjoyed his work with S&K Security where his infectious, encouraging spirit is truly missed. 
His Music Ministry 
Elder Swanson has an extensive music career. He was a gifted singer and published song writer who released three CD's and several singles. He recorded with several secular groups and later recorded with Milt Matthews and the Kings Men. In 1989, he was persuaded by the Holy Spirit to move from secular music to gospel music thus giving him the ability to reach souls for Christ. Among his recordings were solo CDs entitled, Yes, Yes, I Love You Lord, Spirit Song and I'm Not Alone. 
His Family 
Elder Swanson loved and cherished his family from deep in his heart. He faithfully prayed for them daily. Elder Swanson married Alicia, the love of his life, on July 13, 2001. His love for his marriage was undying; finishing strong was his heart's desire. His continued faithfulness and commitment were evident as he remained a strong covering and an excellent provider to his wife until the end. 
Finally, Elder Swanson always encouraged others; his faith in God was unfailing. He demonstrated what's possible when you put Him first. He lived and breathed God, walked by faith and not by sight. A favorite saying of his was, "I have not been perfect, but I have been faithful."